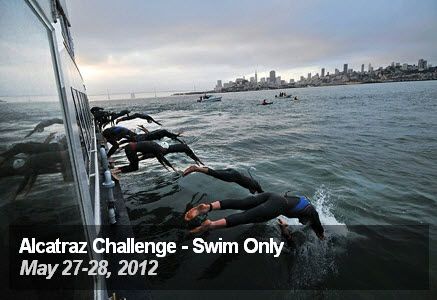 Long considered the pinnacle of swimming achievement, swimmers flock from all parts of the world to take on the 1.5 mile swim from just off the shores of Alcatraz Island over to the sands of Crissy Beach. Frigid water temperatures, strong ocean currents and the lore of few making it off Alcatraz Island alive during its heyday as a Federal penitentiary only heightens the curiosity of aquatic thrill seekers.
Those that choose to tempt fate and embark on this swimming adventure find the swim to be exhilirating, breath taking (literally at the moment you jump off the boat) and a once in a lifetime experience. This is your year to step up and take on the Alcatraz Challenge!
Swim Course
The 1.5 mile swim course begins near Alcatraz Island and finishes at the East Beach of Crissy Field located in the Golden Gate National Recreation Area's Presidio Park.
Volunteers check in at 7:00AM
East Beach of Crissy Field in the Presidio
1199 E Beach San Francisco, CA 94123